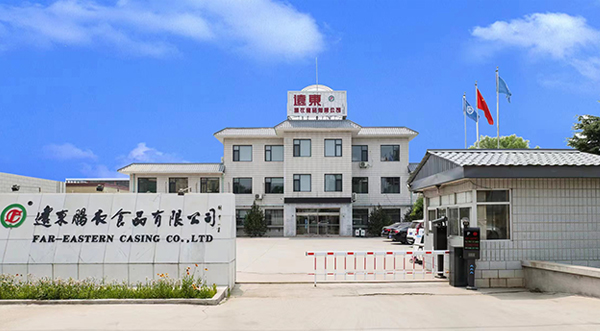 Far-Eastern Casing Co., Ltd is started in 1989 which is a professional company with 33years' history specialized in natural Sheep and Hog casings, and except natural casings, the company also has large market shares of Crude Heparin business. During the well developing in the past 33 years, Far-Eastern Casing has becoming the famous brand in the natural casing industry in China.
Far-Eastern is one of the earliest EU registered companies with EU no. 1300/05039 which also approved as registered processing plant for imported Sheep/Hog originals.
Far-Eastern is a member of CNSCA and INSCA.
Far-Eastern is the earliest company in natural casing industry to complete the ISO9001 and HACCP certificates.
Far-Eastern has completed the FDA registration for US market and the Label registration for Brazil market.
Far-Eastern has been focusing on the innovation of the management and technology in natural casing selection field, and has obtained 10 national copyright patents which are great contributions to the casing industry.
Far-Eastern has eight workshops, could contain over 1000 workers, now we have 150 workers and independent environmental protection sewage treatment equipment, and complete supporting facilities. The annual production capacity of hog and sheep casings can be up to 15,000 barrels. Under the guidance of professional, precise and perfect enterprise spirit, through 33 years of hard work, Far Eastern Casing Food Co., Ltd. has accumulated obvious comparative advantages in the industry in terms of brand, market, team, management, technology, culture, qualification, innovation, etc.
Far-Eastern is looking forward to work together with all colleagues in Meat/Sausage/Casing industries, based on natural casings, start from Shunping, Hebei, Far-Eastern will actively promote the new innovations of the food industry and is committed to becoming a first-class enterprise in the global natural casing market.